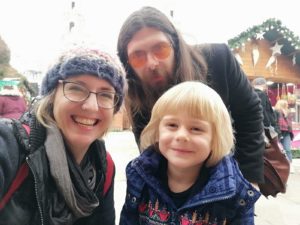 Basic info
I am a lecturer in economics at the Economics Division of the Leeds University Business School. I am mainly interested in macroeconomics, economic modelling, monetary economics, and theory of value and distribution (here is my CV).
Although I was trained as an orthodox economist, today I am quite critical of the dominant approach in economics. My economists' pantheon includes David Ricardo, Karl Marx, Rosa Luxemburg, Joan Robinson, Nicholas Kaldor, Michal Kalecki, Piero Sraffa, Hyman Minsky, Richard Goodwin, Paolo Sylos-Labini, Wynne Godley and Augusto Graziani.
I am married to Marica Grego, who is a teaching fellow in international business at the Leeds University Business School, and we have a daughter, Alice. I am a member of the editorial staff of Economia e Politica, Reteaching Economics and the Italian Post-Keynesian Network.
Philosophy
What would have you done if you were not an economist?
Well, I used to have three idols when I was a teenager: Che Guevara, Maradona and Jim Morrison. I do not know why, but I have got the feeling that something went wrong. (Read the whole interview here)